Let me introduce to you my new friends…
I present you with the Raw Thai Ginger Collard Wrap, Raw Cashew Hummus Wrap, BBQ Tempeh Wrap, the Tequila Lime Chicken Wrap! All vegan, mostly organic.
I created these wraps for Kung Food, and now under Nature's Express, they are sold in every Jimbo's here in San Diego, as well as Whole Foods, and soon to be in every Whole Foods in LA county!!!
I'm so excited that some of my recipes are available to the public! My favorite is the Tequila Lime "Chicken", or TLC as I call it.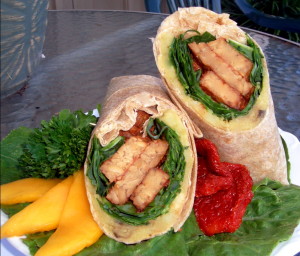 Both the raw wraps are great for a light delicious lunch, plus we all need more raw veggies in our diet! If you're in the area grab one for lunch on your way to work! Heck, grab two! If you aren't in the Southern California area, we also ship through buykind.com.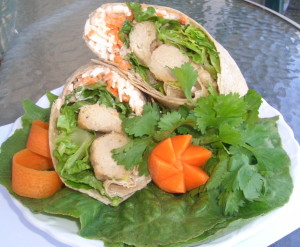 Feedback on these yummy vegan wraps is always appreciated!
Nature's Express Arizona should finally be open in 2-3 weeks. Its all coming together so beautiful. I can't wait for the San Diego location! More to come soon!