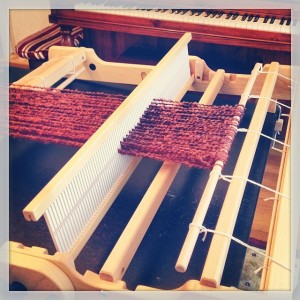 My new loom.
 I've decided that I would start a roundup of all my favorite things/happenings/interests of the past month.  Sort of a what-I'm-into-these-days kind of thing for each month.  So much is happening that I want to share, but who wants to read an entire blog post on my new obsessions with wall tapestries?  (Well, I would, but that's beside the point) Here goes:
Wall Tapestries–  I've been loving my new rigid heddle loom my hubby got me for Christmas.  I started seeing these mini woven wall hangings online and wanted to try one out on my loom.  I believe they are usually made on frame looms, but I figured I could make it work on my rigid heddle.  I bought some odd textured yarn from the fabric store and gave it a shot.  I must say I'm quite pleased!  It's sort of 70's boho sheik, but if you know anything about me, then you'll know it's right up my alley!  I will post some pictures of my first wall hangings soon.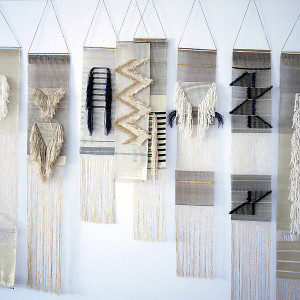 These lovely pieces are made by Justine Ashbee.  I am becoming slightly obsessed with her work.
Game Of Thrones-  Yup.  It's happened.  I knew something had to fill the place of 'The Walking Dead', and G.O.T. has been awesome!  So much action, great character development, and the story behind it all intrigues me. We've finished season 1, and are going to see how long we can hold off before starting season 2.  Erik has become a slight fanatic as well, which makes both our early mornings unbearable.  I also just found out that Peter Dinklage (who plays Tyrion Lannister), is a vegan!
The General Store-  Has anyone been here?  Am I preaching to the choir?  I follow one of the women, Hannah Henderson on Instagram, who co-runs this amazing shop in Venice Beach CA.  I am lucky not to live out there anymore, or I fear I'd have no money left to eat!  Everything they sell seems delicately hand picked.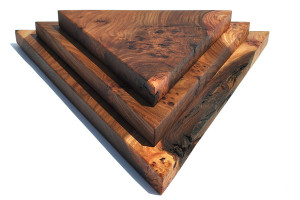 Triangle cutting boards….drool.
Blind Pilot– This love affair has been going on for quite sometime.  I think with the coming of spring, Blind Pilot tunes are such a nice fit.  All of their albums are quite good, but lately their iTunes live show has been in repeat in my kitchen.
Stencils-  Another old obsession, but since our little one has been growing leaps and bounds, we had to craft up another array of onesies.  I even made a special 13 pointed lightening bolt (homage to the grateful dead).  So much fun.  I will attempt to make these shirts next week for some special people.  In case you were wondering how I have perfected the skill of stenciling, check out my post here.
Food- March is always a transitional month for vegetables.  I am so thankful that winter has ended in Maryland.  As far as food here, we've been enjoying asparagus, fiddle head ferns, lots of sweet potatoes, and lots of greens, with the pairings of heartier meals such as loafs and stews.  I am still awaiting rhubarb, which I think should be peaking sometime soon. I have also been working at perfecting my chocolate chip recipe (I am close!) which has resulted in late night cookie feasts….no one's complaining.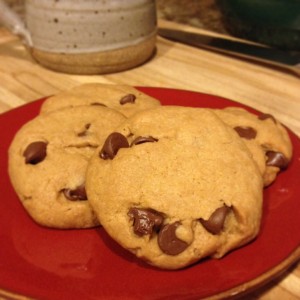 Perfecting perfect.
Books-  The babe and I have been trying out our yoga moves together with Baby Om.  So far when we get going its been nothing but laughs.  Though that makes it a little hard for me to take it serious.  I've also been skipping through pages of The Vaccine Book, by Dr. Sears.  Its completely been mind blowing!  As a person who has spent the last 13 years of her life checking ingredient labels, learning about the preservatives in each vaccine has been slightly disturbing.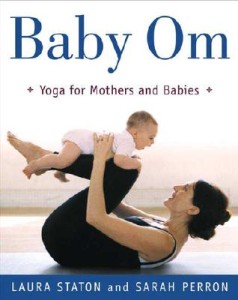 This cover pose, the child's flying pose, is by far Olivers favorite!
That concludes my month!  Till next.