Happy Birthday Andreas!!!!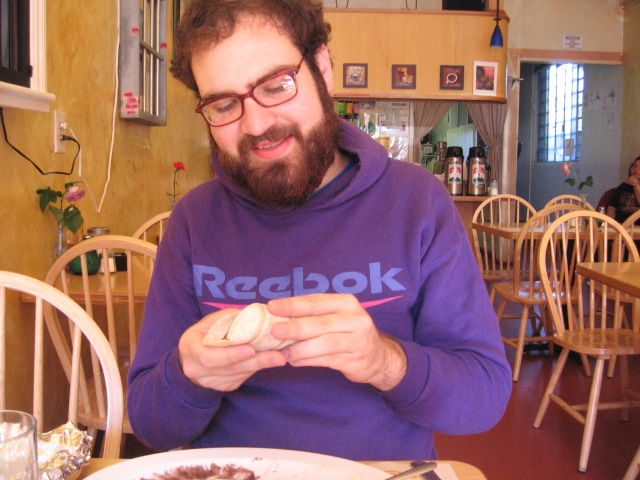 My purpose for this visit was the B-Day weekend of one of my favorite people in the world. Andreas! However, I arrived and he was sick… The kind of sick where you cant leave your bed, and feel bad for having one of your friends fly up from San Diego. But, what is my favorite thing to do in SF, aside from visit friends???
EAT of course!!!!
I only got to enjoy fresh doses of Airborne, lots of H20, and two meals with dear Andreas. First quick stop was to get Pizza from this village coffee/cafe place in Mission. Roasted yams, portobellos, and baked tofu, over a yummy sage sauce.
We ventured down again to mission for breakfast the next day. I believe the Spanish breakfast spot was called Sunshine Cafe. Here I ate a simple and yummy rice, beans, homemade vegan chorizo, and tortilla breakfast, accompanied by a spinach sambusa of some sorts. Truthfully, I forgot what it was called (This is where Andreas sends me an email correcting me of my incorrect food lingo!) But it was delicious served with a spicy homemade hot sauce! And the homemade chorizo was of the best I've ever had!
Next on to: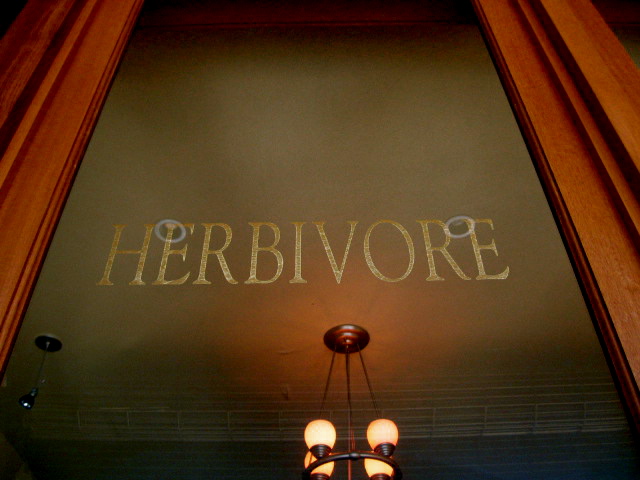 Another friend of mine (who I'd like to say I helped convert to veg-head some what!) Has the pleasure of living 2 blocks from Herbivore. For dinner I had the Lentil Loaf, my friend had the lemon caper penne pasta. Both were delicious! Unfortunately, we got our German Chocolate Cake to go, a result of being to over stuffed. My sneaky friend managed to let me forget about it, until I was gone from the city. I only heard it was delicious:)
Next Breakfast:
If you work in the restaurant Industry, as I, many of us loathe brunch. Early hours, hungry, hung-over people to feed, social gatherings you wish you could attend. But boy do we enjoy going out to eat brunch! Breakfast can always start my day out right.
I was first to arrive and eat brunch at the classic vegan restaurant, Herbivore yet again. Here, my favorite, of anywhere, is the Blueberry Cornbread. Thick, soft in the middle, crisp crust, topped with melted earth balance. I had to literally push it aside before I got full, and forget about the rest of my meal! Sad to say I wasn't to impressed with the tofu scramble. Potatoes=yum, along with the HUGE tempeh breakfast burrito that my friend filled up on.
We were quite tired, wishing they had a liquor license to serve us organic mimosa's! Maybe next time! Here's a funny early morning pic, desperately waiting for coffee.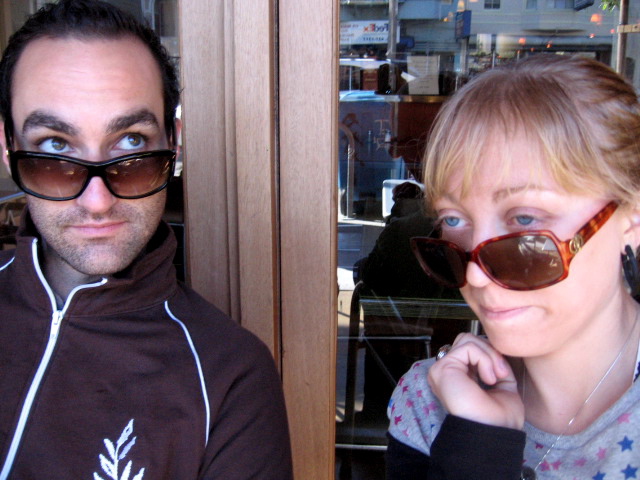 He loves his album Leaf track Jacket!