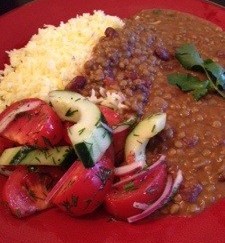 This post will be short, as I am feeling more 'hands-on' with my free time, and less like typing on a computer.  Maybe it's the weather.  Can you blame me?
I knew if I didn't post this recipe soon, that it would get lost in my draft folder….. it's not pretty in there.
Dal Makhani has always been one of my favorite Indian dishes.  Loaded with lentils & kidney beans this slightly creamy, and the perfect amount of spice, Dal Makhani was always my 'go to' after giving up Paneer years back.
With the little one around, I have been growing fonder of the crock pot.  Filling an array of ingredients into this magical slow cooker, forgetting about it for the day, and then when you arrive back, your home smells as if you been slaving away in the kitchen for hours…. maybe it really is magic!
Ingredients
1 cup green lentils
1/2 cup kidney beans
1 medium red onion, minced
2 tsp serrano chillies, sliced thinly
1 tsp ginger, grated
2 cloves garlic, minced
2 tsp cumin seeds
1 tsp dried fenugreek leaves
1 tsp ground coriander
1/2 tsp turmeric powder
1 tsp cardamom pods
3 cloves
2" cinnamon stick
2 bay leaves
3 Tbsp earth balance vegan butter
1 cup tomato puree
1 cup coconut milk
Salt to taste
cilantro to garnish
Instructions
There is no need to soak the beans overnight when using a slow cooker. If you are in a bit of a hurry and feel you can't allow the full 6 hours, then by all means, soak away!
Place both the lentils, and kidney beans in crock pot and cover with 4 cups water.
Prep the onion, chili, ginger and garlic and add to beans.
The cumin, fenugreek, coriander, and turmeric can then be stirred in with a spoon.
Assemble cardamom, cloves, cinnamon, and bay leaf in cheesecloth and tie off. Add to beans.
Set slow cooker at 6 hours.
Once beans have cooked through, gently stir in butter, tomato paste, and coconut milk.
Salt to taste, and add more water if desired.
To achieve a fuller flavor, allow the Dal to stew for at least another 1-2 hours (the longer the better!)
Garnish with freshly chopped cilantro.
http://vegpod.com/dal-makhani/
Copyright 2016 Vegpod.
Any sort of basmati rice would be the perfect accompaniment to this dish.  I made a turmeric seasoned rice, with a hint of saffron and some green peas.  The cucumber salad was a nice crunch to the meal.
Enjoy and let me know how it turns out!