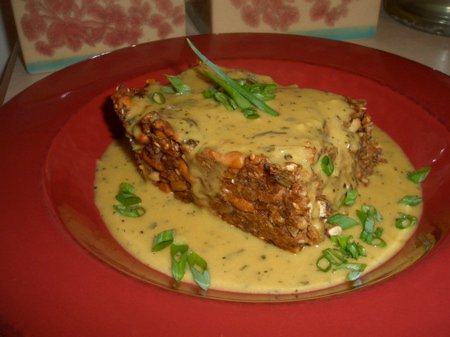 Yum. Yum. Yum.
Its been far too long since I've made any kind of loaf. But this one came out so delicious, it made up for lots of lost loaf time! To top, I made a thick nutritional yeasty gravy, with a classic side of garlicky mashed potatoes. This is definitely a filler up meal, so go easy on those potatoes, and make sure you eat all your loaf first! Lentils, as most of us know are high in iron & proteins. Lentils also contain dietary fiber, vitamin B1, and minerals. Health magazine has selected lentils as one of the five healthiest foods. Thats right, so eat up!
Lentil Seed Loaf:
4 cups water
1 bay leaf
1.5 cups lentils, red look the prettiest
1/2 cup water
1/2 cup bulghur
1/3 cup each, sesame seeds, sunflower seeds, & pine nuts
2 cups yellow onion, minced
2/3 cup celery, minced
2/3 cup carrots, minced
2 Tab. oil
2 tea. each of sage & thyme
1 cup vegetable broth
1 tea. sea salt
1/2 tea. blk. pepper
1 Tab. parsley
1 Tab. tamari
2 cups oats, quick cooking
*** Preheat oven to 325 degrees. First, bring the 4 cups water, bay leaf, and 1.5 cups of lentils, to a boil. Allow to simmer till tender, about 30 min. Drain and save 1 cup of vegetable broth.
Next bring the 1/2 cup water to a boil. Stir in the bulghur, and remove from heat.
On a sheet pan, toast seeds for about 10 min. Allow to cool. In a large skillet, saute veggies until tender. Stir in parsley & tamari. Add in the toasted seeds & nuts, lentils, bulghur, oats, vegetable broth and stir well. Add more salt, etc. to taste. Place in an oiled 4×7 bread pan, and bake uncovered for 50 min. Cover with foil, and bake for another 20 min. Slice and serve!
….And don't forget your favorite gravy.