I've said it before, and will I say it a million times more, I LOVE M CAFE!
LA can be the most draining city on all levels. But with the help of good company, especially those who desire amazing vegan eats as much as I, LA can be sooo incredibly yummy!
In case you haven't yet heard the scoop on this place, M Cafe "quoted" is Contemporary Macrobiotic Cuisine — featuring balanced, nutritious, creative cooking which can be enjoyed daily by everyone, not just vegetarians or people with dietary restrictions.
Instead of going for the amazing Tempeh Florentine, which is my favorite brunch option, (see my old post on M cafe!), I decided to go for the Japanese Bento Breakfast Special, pictured above. It's starter was a Kyoto style miso soup. Thinly sliced shitake mushrooms, wakame, scallions, cubed tofu, and yellow miso broth.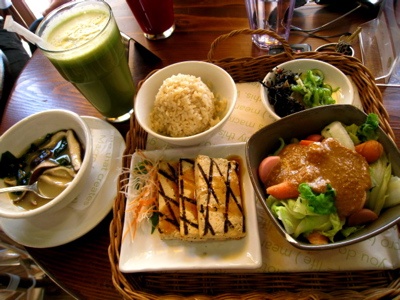 When the Bento Platter arrived, I hadn't even gotten thru 2 sips off my fresh celery lemon juice. And boy was the platter huge! Simple scoop of brown rice, salad with ginger dressing and homemade pickled radishes, grilled tofu drizzled with a katzu glaze. And lets not forget about the gingered-arame-cucumber salad to help the digestion of all the food I was about to pile into my belly!
My friends had the blueberry pancakes, served with fresh strawberries and sweet maple syrup.
You'll have to admit that Brunch like this on a Thursday is quite impressive!
The following morning was a run around. But of course, I needed a little treat to help fuel my energy for the day. So where else to stop for a quick grab-n-go? M Cafe take out! In under 5 minutes, perfect for LAers, I grabbed a Chocolate Hazelnut Croissant, and a Raspberry Chocolate Muffin from the take-out counter. On a side note, I haven't had a croissant in about 7 years, and more importantly, I've NEVER had a vegan croissant! Let alone chocolate drizzled.
Evan more exciting, I get to actually "work" in LA soon on the weekends. I'll be demo-ing, and promoting the Nature's Express Wraps at 20 different Whole Foods in LA county! So stop by and see me, and let me know what you think of the wraps! We are switching to bio-ware soon! Whole Foods is also making a movement to stop using plastic bags in all locations. It starts April 22nd. EARTH DAY! Pretty cool. Genevieve (in picture below) is so excited about the wraps being in Whole Foods LA, that she is forced to do a dance!