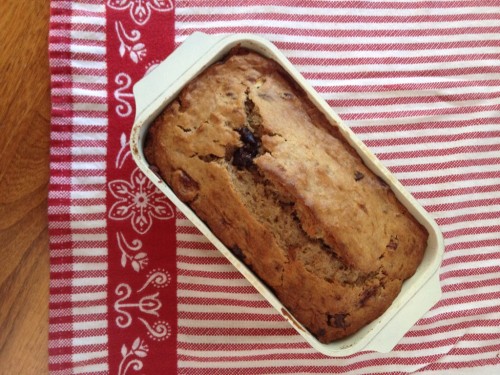 Sheboygan Wisconsin is cold and rainy.  Its June, and I'm wearing socks.  I never wear socks, so it must be cold.  Aside from Zucchini bread, I like to make most of my other loaf breads in the fall.  The colder weather slowly trickles inside, and the warmth of running the oven for over an hour with the smells only seems fit for that time of year.
The fresh zucchini of the season won't be around for another month, and my over ripe bananas needed to be used somehow.  Thus, Banana Bread.  Just hearing those two words makes me feel all warm and fuzzy.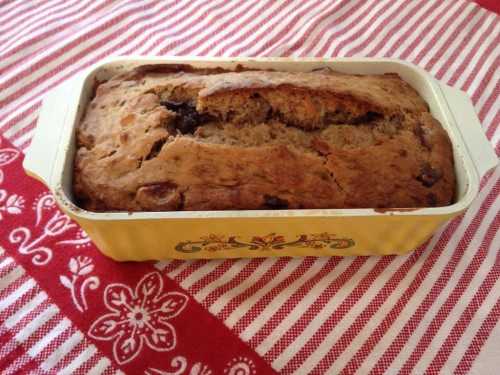 Bananas have high levels of tryptophan, that stuff then turns into serotonin, which keeps your brain happy and keeps you more alert.  They are the most popular fruit in the US.  Did you know that the bananas we eat today are different from those 20 years ago?  I have heard that the strain of bananas we most commonly use, currently called the cavendish, is going extinct! But no need to stress.  Chances are our grandparents were eating a different type of banana, and we never even noticed the switch.
Ingredients
1/4 cup almond milk
1 teaspoon apple cider vinegar
2 cups spelt flour
1/2 teaspoon baking soda
1 teaspoon cinnamon
1/4 teaspoon allspice
1/2 teaspoon salt
1 cup turbinado sugar
1/2 cup earth balance, at room temp
3 very ripe bananas, mashed well, but still a little chunky
1 teaspoon vanilla
1/2 cup chocolate chips
1/2 cup walnuts
Instructions
Preheat oven to 350 F.
Spray a 8×4 bread pan with non stick cooking spray.
Mix almond milk with apple cider vinegar and set aside to curdle.
In one bowl, sift together the flour, baking soda, and spices. Set aside
In mixer, cream sugar and earth balance till light and fluffy. Mix in mashed bananas, almond milk, and vanilla.
Gently stir in flour mixture to banana mixture.
Fold in chocolate chips and walnuts.
Pour into loaf pan and bake for 1 hour.
Allow to slightly cool before removing from pan.
http://vegpod.com/banana-bread/
Copyright 2016 Vegpod.
Around here, when we can't find friends to help us finish the loaf within the first day, we will warm up a slice with some melted earth balance or coconut oil for breakfast.  Enjoy!