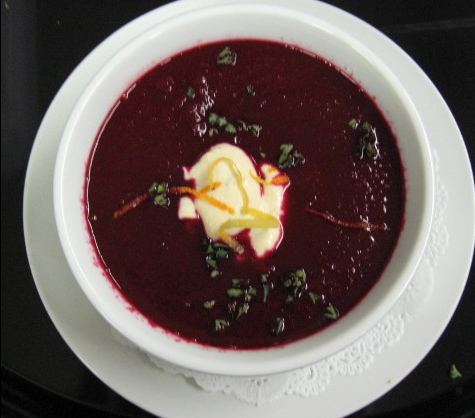 As we all know, Borscht comes to us from Russia and Poland. Beets are high in potassium, and those green leafy tops contain more iron than spinach itself. Beets are especially great in the summer! The acidity & sweetness of the OJ in this recipe helps to make this soup a tad sweet, and super creamy. As for the sour cream, the fresh herbs help to cut the bland taste of the tofu.
Vegan Borscht
4 cups filtered water
4 cups beets, peeled & diced
1 big tomato
2 carrots, peeled & diced
1 med red pepper, seeded & diced
1 bay leaf
1 big red onion, diced
4 green onions, or scallions
2 cloves garlic, minced
1/2 cup parsley, chopped
1/3 cup fresh squeezed OJ (save some zest for garnish!)
Sea salt & pepper to taste
*In large pot, combine water, beets, tomato, carrots, and bell pepper, and bay leaf. Bring to boil, and allow to simmer for 30 min.
Meanwhile, Heat 1 Tab. of olive oil in saute pan over medium heat. Add in onion, scallions, and garlic. Saute till onions are translucent. Gently stir in parsley once heat is turned off.
Remove bay leaf from broth mixture. Then combine sauteed vegetables with broth mixture. If using a food processor, you may need to puree in batches, but if you have a small hand held blender, use it! I haven't tried to puree this in my blender, but if you've got a vitamix, it should work!
After you've pureed the mixture, stir in the OJ, sea salt, and pepper.
For the Tofu Sour Cream:
2 tea. agar-agar powder
4 Tab. fresh lime juice
2 Tab. fresh lemon juice
16 oz. tofu, firm
1/2 cup cold pressed olive oil
2 Tab. of each: chives, cilantro, basil
2 tea. sea salt
1/2 tea. garlic, minced
1/2 tea. blk. pepper
***In a small stainless steel bowl, dissolve agar in fresh lemon & lime juice.  Blanch tofu for 5 minutes, drain and cool for 20 minutes.  Blend all ingredients and till smooth. If mixture is still warm, transfer to bowl and let sit in refrigerator till chilled.  Dollop Sour cream to top the Borscht, along with some orange zest and minced chives.