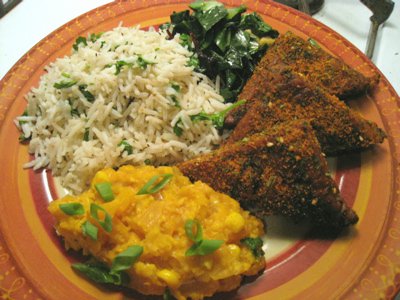 Creole vs. Cajun cooking.
Most natives will jump at the chance to tell you the vast differences in style. In fact, most Cajun's get offended when you don't know the difference.
Both styles tend to be heavy in flavor, and rich at soul. Which goes along with the city's motto, "Laissez les bon temps rouler" or "Let the good times roll". But getting technical, what is the difference?
When the Spaniards governed New Orleans they became known to Europe as Creoles. Today Creole style cooking has the influence of French, Spanish, and African cuisine. Cajuns are descendants of the French Acadians as they learned to live in the south Louisiana swamps. It is said the Creoles tend to use more tomatoes, butter and cream. Cajuns tend to use more spices and animal (pork) fat.
After flipping thru a few recipes, I decided to make a Cajun influenced meal….. Minus the pork fat of course!
For the protein of the meal, I used tempeh, marinaded and baked it, then patted it in Cajun spices and lightly grilled the triangles. Garlicky greens are an essential for me with any southern style food. For the rice, I used white basmati, seasoned with Lemon zest, black pepper, and fresh parsley. As a bonus, and to help with the spice factor of the Cajun tempeh, I made a naturally sweetened corn relish.
Here's the corn relish recipe. Had I have used red bell peppers, instead of gold, the color would have been a bit more vibrant. I jut can't help but love the taste of sweet golden peppers!
For the relish:
3 cups corn, fresh, or frozen, then thawed
2 Tablespoons tomato juice
1 cup diced yellow onion
1 Tablespoon of olive oil
1 cup diced red bell pepper, or gold:)
1 teaspoon sea salt
pinch of cayenne, or more
Combine 2 cups of the corn, with the tomato juice in food processor. You may want to add a tiny bit of water to help smooth it out.
in a medium sauce pan, heat the olive oil, and add the onion and bell pepper. When tender turn flame down to medium heat. Stir in the pureed corn mixture. Allow to simmer for a minute, then add the whole corn kernals, along with spices.
Garnish with some sliced green onion.
Serve warm!
I did find this cool blog about where vegans can eat in NOLA. Just in case anyone was planning a trip:)
And below is a picture of Sweet Mama Janisse, owner and chef at Bless My Soul, a veggie-friendly creole style restaurant in Eureka, Ca. She specializes in delicious sauces, all mostly vegan friendly. And her vegan hush puppies are delectable.