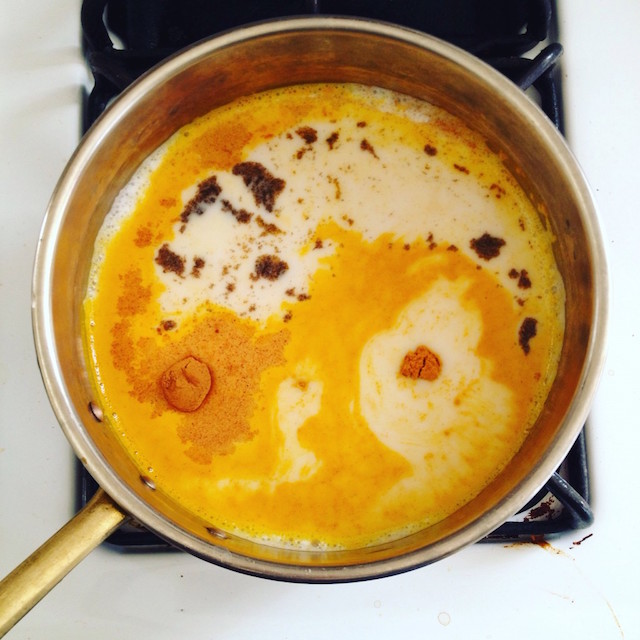 Psychedelic milk!
Turmeric root seems to be making a splash in the superfood world.  Most everyone is familiar with turmeric thanks to its use in the common spice blend, curry.  This bright yellow spice has tons of health benefits, such as anti-inflammatory properties which can reduce joint pain from osteoarthritis and Crohn's Disease. It is also said to help reduce the risk of cancer- but really, most all superfoods these days live up to that challenge. Turmeric contains a naturally occurring chemical compound called curcumin.  Curcumin regulates messengers that cause inflammation in the body… wowza!  It also contains small amounts of iron, protein, and fiber.  Turmeric root can also be used to treat wounds, cuts, rashes, bruises, insect bites, and swelling
This Auryvedic recipe for Golden Milk traditionally incorporates black pepper to help absorption.   Drinking this before bed can aid relaxation and help to boost your immune system while sleeping.  For extra crunchy DIY points, use your own homemade almond milk!
Turmeric Latte aka Golden Milk
Ingredients
1 cup almond milk
1 Teaspoon maple syrup
1/4 teaspoon ground turmeric
1/4 teaspoon ground ginger
1/8 teaspoon ground cinnamon
1/8 teaspoon ground cardamom
1/2 vanilla bean, seeds scraped (can substitute 1/2 teaspoon of extract)
pinch of freshly ground pepper
1/2 teaspoon coconut oil
Instructions
Over low heat, add all ingredients, except coconut oil, and whisk till combined.
Bring to steaming, just below a simmer. Stir occasionally, for 10 minutes. DO NOT let it come to a boil!
Remove from heat. Stir in coconut oil. Taste and add additional maple syrup if desired.
http://vegpod.com/turmeric-latte-aka-golden-milk/
Copyright 2016 Vegpod.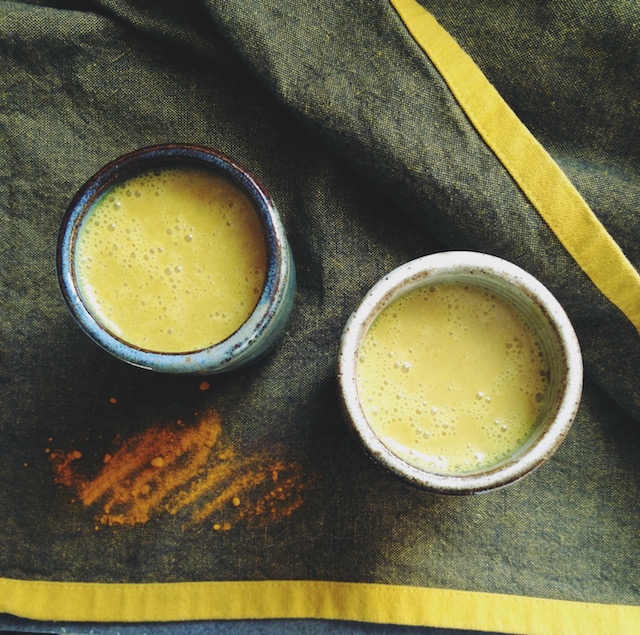 Shot out to my hubbies pottery skills.  I am loving these tumblers.
This recipe can be customized however you'd like!  Options are endless, but you get the idea.
Enjoy!