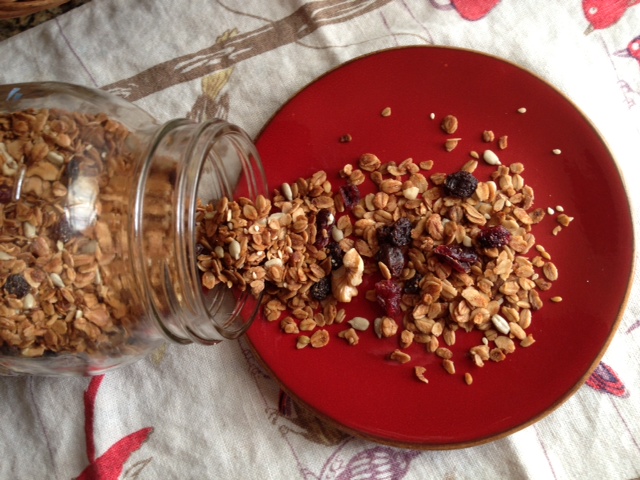 Its been almost 2 months ago since we left Wisconsin.  And as much as I do miss it, I am whole heartedly enjoying Annapolis, Maryland.  What a great city.  A charming brick laid downtown, overly dog friendly, bike friendly, and I love living in a city that thrives off of the water.  And have I mentioned yet how nice it is to be able to smell the salt water!  Its lovely. Back in Sheboygan, we were making a plethora of granola bi-weekly.  Vegpod sold two flavors at the farmers market, and two flavors to Goodside Grocery for resale.  It always had a tendency to sell like crazy, and we never ran out at the house.  Win-win.  Annapolis is proving to be similar.  Though we are not wholesaling anywhere, and though we don't run a booth here, we do live with the cutest two-and-three-quarter-year old, who loves to eat granola, or 'nola' as she calls it.  Lailah like to eat her nola just as is with a spoon, or out of her hand.  How kid friendly is that?
The other great things about this granola is that its super easy to make.  And homemade always tastes better anyway, so why out source?  Thats no reason to stop buying Vegpod's granola, but I encourage everyone to try it out!  I promise you will feel amazing and your kitchen will smell fabulous for hours!  Did I mention its gluten free as well?
Ingredients
3 cups old-fashioned oats
3/4 cup quinoa flour (scoop and shake to level)
3/4 cup sunflower seeds
1 cup chopped pecans, walnuts, or any kind of nut
2/3 cup sesame seeds
1 tea. pinch sea salt
2 tea. cinnamon
1 tea. nutmeg
1/4 cup safflower oil
2/3 cup maple syrup (the good stuff) or agave nectar
1.5 tea. vanilla extract
1/2 cup raisins, cranberries or any other chopped dried fruit
Instructions
Preheat oven to 300 degrees. Mix first set of ingredients together in large bowl.
Then mix second set of ingredients in separate bowl.
Pour wet into dry ingredients, combine until well coated. spread evenly on the baking sheet.
Bake for 10 minutes, stir. bake for another 10 minutes, keeping a close eye on the stuff, both agave & maple syrup can brown quick!
Remove from oven, stirring again.
Once its cool, stir in the dried fruit.
http://vegpod.com/birdie-granola-aka-nola/
Copyright 2016 Vegpod.
There you have it!  I told you it was easy.  You don't have to be precise with any of the nuts or fruits, really anything to your liking will work.  Sometimes I like to stir in toasted coconut, then sometimes cherries are great for a little tartness.  You can be like Lailah and eat it as is, or have it over your favorite yogurt or milk with some berries.  I have been obsessed with the Trader Joe's brand soy yogurt, but they have been out of stock for months!  Such a bummer.  Since then I've opted for the so-delicious coconut milk based yogurt.  Its not bad, but nothing compared to Trader Joe's.  Once the weather cools, I will pull out the dehydrator and start making my own again.  Oh fall, how I am ready for you!