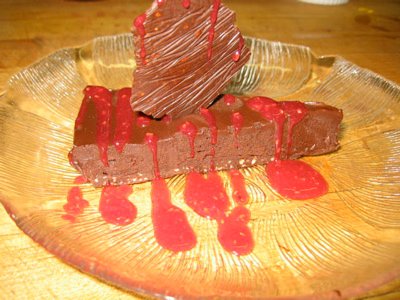 Cacao!
Yes, I have always suffered a severe addiction to chocolate. But when I get the chance to use raw cacao, I know my body is in for a bigger treat! Super high in antioxidants, magnesium, and PEA, Cacao is a natural high in all forms, especially when its the uncooked stuff!
This recipe is from the Raw Food, Real World Cookbook. I tend to really like the recipes from this book.
I did change a couple small things. I used Natures First Laws' Raw Chocolate Powder instead of the cocoa powder. If you've never used this stuff before- you should. It tends to be a little less bitter than straight Cacao nibs, or powder. I use this to also make my almond nut milks, brownies, ice cream, etc. If I'm feeling lazy and need a chocolate fix fast, Ill cut into a young coconut, and mix in a spoonful with the yummy water inside. Simply decadent! Instead of making almond flour, I took my leftover nut pulp from my nut mylks, dehydrated it and voila! No waste! I also made a raspberry coulis to top, making this a super duper high in antioxidants dessert!
For the crust:
3/4 cup Raw chocolate powder
3/4 cup Almond pulp
1/2 cup Maple syrup granules
1/4 cup Coconut butter
pinch of celtic salt
***Mix all ingredients in a mixer with a paddle attachment. Or if you dont have a mixer, use a wooden spoon and a large bowl. Press the crust evenly in a 9-inch tart pan. Springform pans work best due to the removable bottoms! Allow to chill 1 hour.
For the filling:
2 1/4 cups Raw chocolate powder
2 1/4 cups maple syrup
1 cup coconut butter
***Blend all of the ingredients in a processor till smooth. Taste it here to make sure its not grainy, and to your liking. Pour into the chilled crust, and refrigerate for another 3 hours.
*** To make the raspberry coulis, I put some fresh raspberries and a tiny squirt of agave in the blender for just a quick second. Spoon over the top. Feed this to you loved one and I'm sure they'll be at your feet begging for more!