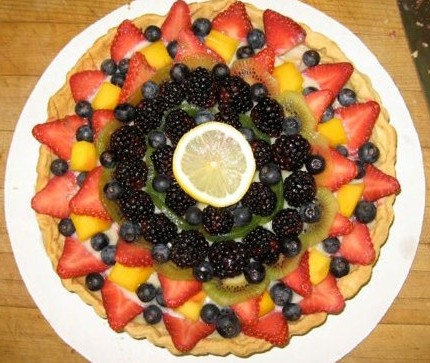 This tart is made using amasake, which is sweet rice fermented into an extra sweet drink, is used in place of the sugar for the crust. This natural sweetness, combined with the apple juice in the filling, is all you need to satisfy your sweet tooth! The agar-agar is a sea vegetable that replaces traditional gelatin in the filling. Agar-agar is cooling and stimulates healthy digestion. The kuzu helps to tone the intestines and regulate body temperature. Not only is this healthier dessert delicious, it also serves to keep you cool and satisfied in the summer heat.
For the Crust:
1 cup organic spelt or whole-wheat pastry flour
1/2 tsp. non-aluminum baking powder
Pinch of sea salt
1/4 cup organic hi-oleic safflower oil
1/4 cup organic amasake
1/2 tsp. organic almond extract
Preheat the oven to 350F.
Sift together the dry ingredients in a large bowl.
In a separate bowl, whisk together the wet ingredients.
Add the wet ingredients to the dry ingredients and stir until combined, forming a dough. Press into the bottom and up the sides of a tart pan.
Bake for 15 to 20 minutes, or until the edges are golden brown. Remove from the oven and set aside to cool.
For the Filling:
2 cups organic apple juice
Pinch of sea salt
1 Tbsp. agar-agar flakes
1 Tbsp. organic kuzu, dissolved in 2 Tbsp. spring or filtered water
1/4 cup fresh organic lemon juice, or more to taste
1/2 tsp. fresh organic lemon zest
Fresh organic mint leaves for garnish
Fresh organic berries for garnish
Place the juice in a saucepan and add the salt. Sprinkle the agar-agar flakes on top and let stand for 5 to 10 minutes.
Slowly bring to a boil, stirring frequently once warmed. Boil, stirring frequently, for 5 to 10 minutes, or until the agar-agar flakes have dissolved.
Reduce the heat to low and simmer for 1 to 2 minutes. Slowly add the dissolved kuzu, stirring constantly to prevent lumping.
Raise the heat to medium and stir until thick and clear. Remove from the heat. Add the lemon juice and zest, stirring well. Let cool slightly, about 10 to 15 minutes.
Pour into the prepared crust. Refrigerate for about 1 hour to set.
Garnish with the mint leaves and the berries.
Makes 8 to 10 servings