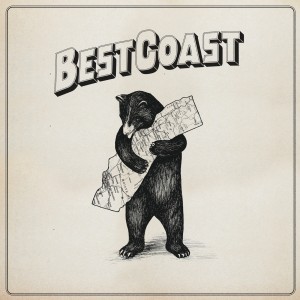 I am always the first to note that I am a New Yorker. Through and through. A bagel loving, pizza folding, IheartNY New Yorker. But somewhere along my timeline, I must have gotten sidetracked and gave away a big piece of my heart to California. This seems to be a trend among many east coasters. Its as if we had a time lapse. A battle of my inner conscious. Girls just don't go around giving their hearts away to just anyone, let alone anyplace. Why would I have done such a thing?
On our recent vacation out west, I was reminded.
After the wedding of my dear friends Rachel and Josh, we headed up to Ventura, where we would take a ferry over to the Channel Islands. There we would Kayak around Santa Cruz island to explore the sea caves! The water was perfect. Erik proved to be the risk taker of the group, and the day was surrounded with sea lions, starfish, anemone, sea urchins, dolphins, and sun burn. All we needed was an aloe plant.
San Luis Obispo. Central Coast of California. For me this seems to be a perfect fit. Maybe it was the charming street signs, maybe it was the fog rolling in as it covered the mountains peaks. If I had to live out that way again, this would be where. We decided to have lunch at Big Sky Cafe. Not completely vegetarian, but wow. This might be where I could say I had my favorite meal of the trip. Erik had the vegetarian Pozole. A South American stew, spiced and seasoned perfectly, with Hominy. It was topped with a slice of cornbread and a slab of tofu. I had a veganized black bean Huevos Rancheros, and breakfast potatoes.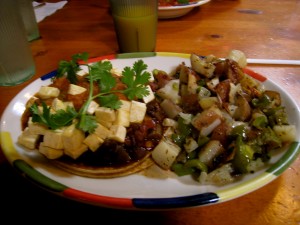 Side note: I find myself severely addicted to Hominy these days! Use this in a stew soon Meg!
After a filling breakfast we traveled around the corner to Kreuzberg, Ca coffee shop.
Berlin is a special place for Erik and I. What do Plato and Ayn Rand have in common? They are both entrees on the menu, along with a surplus of other great authors.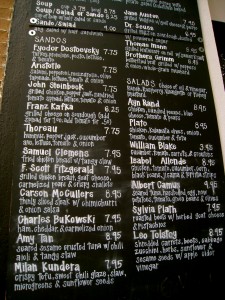 Haruki Murakami (a personal favorite of mine) was a vegan sesame tofu dish.
Erik had some doubts about Dostoevsky being a turkey pesto sandwich, but as we headed inside, we couldn't miss a life size copy of the most prominent graffiti art in Kreuzberg Berlin. This place was filled with comfy furniture, and books…. tons and tons of books. Any of the books in store were fro sale. No more than $4. Unfortunately we had no room left in our bellies, so I ordered a latte. To my surprise, I had not only the option of soy, but almond, hazelnut, oat, rice, and coconut. This place was great.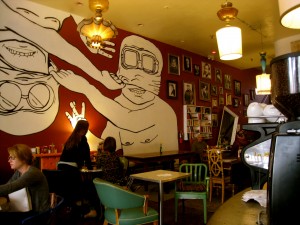 Take note of the upside down light fixtures!
We bought sunscreen, and aloe then headed up the coast another 3 hours swirling round hwy 1. With our thrown together last minute packs, we set out for a 10 mile trek to Sykes hot springs. Knowing that we were going to stay the night at a place that had no amenities, we tried to pack lightly. Avocados, oranges, grapefruits, eggplant tapenade, and ezekiel sprouted tortillas, aseptic containers of miniture soy milk and packets of Chocolate vega protein mix, and coconut waters, held us up quit well. We hiked, camped, soaked in the springs, the set out for our 10 mile return. Just another beautiful day of hiking around the redwood covered mountains of Big Sur.
We made it out alive, still sunburned and our bodies sore, but lucky us, Big Sur Bakery was located just around the corner!
Big Sur Bakery prizes themselves on working with the local farmers, and the simple elegance of the vegetables themselves. We split a bread board, which included their 11-year in the perfecting 9- grain bread, and their italian bread. Both delish. I could've eaten a whole loaf. We made sure to finish all the black sea salt that was piled on the wooden board as well. We also split a vegetable dish that was composed of cauliflower, pine nuts, green beans, and cranberries. It was divine! The flavors were so fresh. We finished it off with two espresso shots, and hit the long road back to so Cal.
We made a stop in Los Angeles on our way back to visit some friends and family. Our dear friend Roi, is a chef at Sun Cafe in Studio City. Sun Cafe serves mostly raw vegan food. Roi insisted we try the gluten free macaroni and 'cheese' and Erik wanted to get his raw fix, and ordered the Pad Thai, with kelp noodles.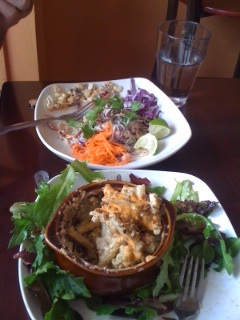 Both were great, but we were quite envious of Roi's raw Shamrock shake, which consisted of banana, mint, spinach, and raw cacao. On the drive down I was whining about craving an ice cream sundae, which doesn't happen often.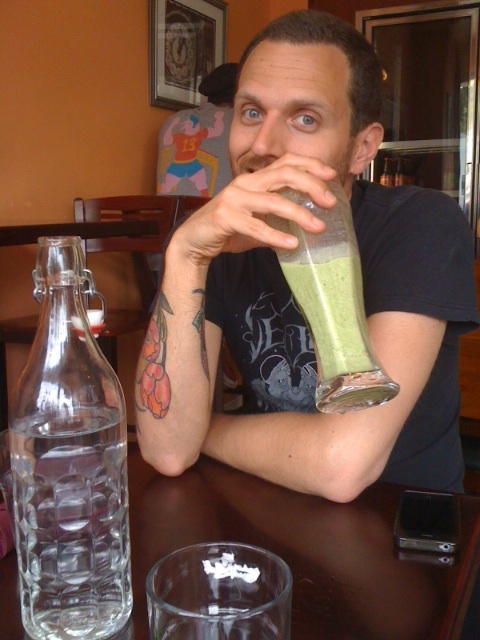 Roi insisted we skip the shakes and head around the corner to kindkreme. Kindkreme is and all raw, all vegan ice cream shop. They have 3 locations, offering cones, cups, shakes, floats, and pints to go! My craving was met! I got a cone with a scoop of mint chip, and a scoop of the superfood which had raw cacao, goji berries, hazelnuts, chia seeds, and a whole mess of other raw goodness.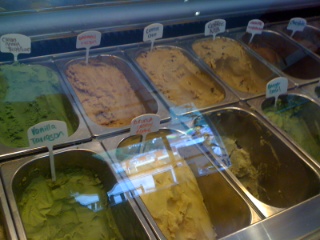 The owner was so nice, she offered to let us sample every flavor!
The rest of the trip was filled with M Cafes' sushi and macro bowls topped with the best seitan in the world (I have said this many a times before- go there and just get a side of seitan with their macro-ketchup!), beer breakfasts at Ranchos accompanied by chilaquiles, and the fabulous tofu cutlet sandwiches from Mama Turners B & B. Though many more food ground was left to be covered, our last stop before the drive to the airport was the old time fav, Influx Tofu #1's.
The whole vacation was well spent, absorbing everything the beauties of California had once offered me, and had proven to stay true. I understood why my heart had sunk as I boarded the plane back to Wisconsin. I missed it already. The drive back up from the airport felt like forever. I knew work beckoned in less than 6 hours. But as I arrived home, my heart had been so distracted, that I had forgotten with what was really important… these two: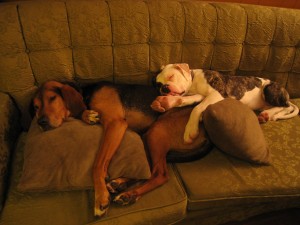 Kala & Cooper

And then I was glad to be home.